Over 50 Years of Service!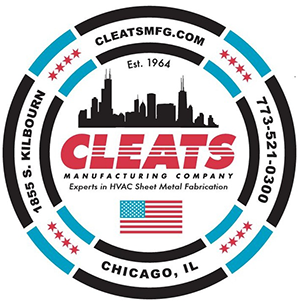 Cleats has over 50 years of experience in duct fabrication. Our experience and time-honored commitment to fabricating quality products and outstanding service makes Cleats your #1 source for all your sheet metal needs. As the industry has evolved, and our product and service offering has broadened. Our primary goal remains to help you complete your projects on time and within budget.

Your project can be priced from a material list or we can do a take-off from prints or files you provide. All duct will be manufactured in accordance with SMACNA standards.

Our highly skilled union estimators and sheet metal workers are the best workforce in the industry. They are a dedicated team of tradesmen who bring a level of knowledge and pride to their craft that is truly extraordinary.

Implementation of industry leading software, continuous improvement in our processes, and our state of the art equipment enable us to provide quality products and competitive pricing for your projects.
Cleats is conveniently located in the city of Chicago. Our central location and fleet of trucks gives us the ability to provide on-time delivery and outstanding service. At Cleats, our quality, service, and competitive pricing are unmatched. Give us a call today and one of our estimators will be happy to give you a quotation on your next project.