Cleats Manufacturing is a premier fabricator of HVAC sheet metal products. Founded in 1964 by Ernie DeLord, the product line started with slip and drive cleats and expanded rapidly. Over the past 50 years, we are still DeLord family owned and operated, adding rectangular duct and fittings, spiral pipe, cleatseal gasketed round fittings, welded duct, and other sheet metal products.
In addition to our vast product offering and state of the art facilities, we pride ourselves on having the most talented team of tradesmen and estimators in the industry. Our union trained team will assist you from start to finish in providing complete ductwork systems for just about any application. There is no job too big or too small for us to handle.
All quotations will be promptly produced with a great level of detail, accuracy, and consistency. Our products are fabricated with pride and our quality control program is unmatched. The delivery scheduling system we have implemented, along with our large fleet of trucks, will ensure that your deliveries will be on time. All of this, combined with our extremely competitive pricing will give you an instant advantage in completing your projects on time and within budget.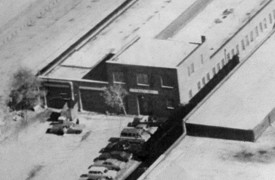 Kilbourn Plant 1980
Kilbourn Plant Today